XSplit VCam is widely used to stream, broadcast by making different alterations in your background. It is an advanced tool compatible with different webcams. You do not need an expensive green screen or lighting setups because of the equipped services provided by XSplit VCam. Once the green screen has been added to your PC, you will face several difficulties like restricted movements, time consumption, etc. XSplit VCam offers cutting edge background replacement. You can blur your background or add images and graphics to it. You can give your webcam a DSLR or Portrait mode style effect with this application. A great way to hide your messy room, maintain privacy and improve your broadcast. In this article, we have collected the best 10 alternative apps with similar properties.
10 Best Alternatives for PC and Mac
OBS:
Open Broadcast Software aka OBS is an open-source free tool that works extremely well for streaming applications. You can also make changes in the domain coding to produce desired effects for you. OBS is widely used for sharing videos, applications, and game streaming. It extends support to popular video formats like MP4 and FLV. You can use the filters and mixers available within the app to produce productive output.
FFSplit:
FFSplit is another free software tool that helps users to record and capture desktop movements with ease. It provides very high-quality video streaming formats. It has plenty of features such as overlay, hotkeys, etc. Also,it allows parallel streaming and live share content. It has an embedded light resource utilisation feature.
Wirecast: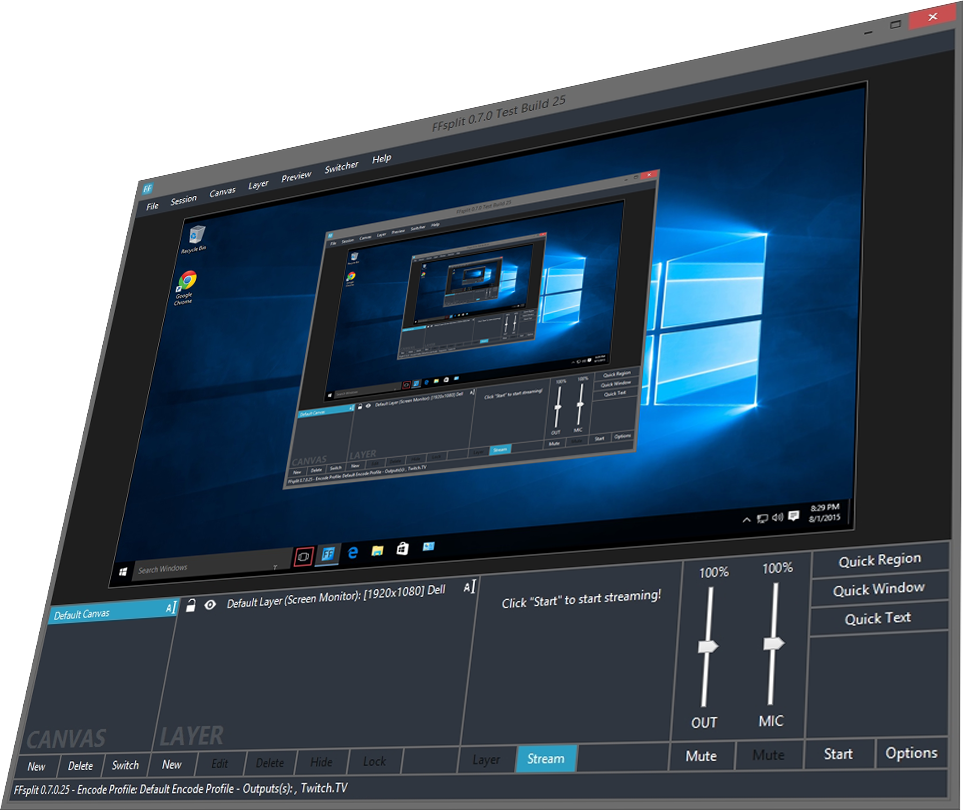 Specially designed for the digital content creator or game streamer, Wirecast provides a professional solution to impress your audience. It has the ability to capture video details in real-time such as web feeds, desktop, iOS, Live cameras, etc. Users can add transitions, animation titles, etc. during the live broadcast. It offers direct streaming to social networking sites like Facebook, Twitter, etc.
Gameshow:
Gameshow is a powerful software with revolutionary screen building features. It is used by the professionals to process multiple screens together in very less time. It offers playlists for full screens so that users can customise their broadcasting process. Moreover,it contains a plethora of widgets, templates, etc. for the users.
VMix:
Vmix is an SDI based live streaming and recording tool that has multiple layouts and features. It is portable, affordable and requires minimal effort. One significant feature of this application is its ability to process 4K recordings. Hence, it is used by professionals. It can be used to activate two use mode so that two users can work on the same project. 
Lightstream:
Lightstream Studio is a powerful streaming application with cloud support. Sources are captured from your computer, but all the compositing and encoding is done on Lightstream servers. This of course means much less CPU usage on your local machine. It is free and contains many features like slick overlay, guest-hosting, live chat support, remote scene switching, and so on.
Shadowplay:
Shadowplay is an embedded tool that comes in handy with NVIDIA GeForce graphics card. It is intended for gamers. It encodes using the GPU. Hence, there is no effect on your computer's performance. It is a great tool for local recording. For instance, users can easily capture the last some minutes of the game using keyboard shortcuts.
Mishira:
Mishira is another effective tool with powerful features. It allows streaming to multiple services at the same time. It has a lightweight resource utilisation ability that will not affect your CPU's performance. Plus,it is an open-source free application with wonderful audio mixing features. It allows access to recordings in different files each within separate settings.
Contentflow:
Contentflow allows you to live stream across multiple platforms. You can distribute your stream simultaneously to several sites such as Facebook live, youtube live, etc. It allows the creation of subtitles automatically with impressive quality. As soon as the stream ends, you can download the video in different resolutions. Logos, chatbox, etc. are available in the pro user's account.
BEBO:
BEBO is free of cost open-source application that doesn't require any subscription. The entire encoding is done in the cloud. Hence, the CPU utilisation is minimal. You can add themes, graphics, streaming chat, donations, custom loot boxes, etc. all together using this one powerful application. The interface is easy-to-use and all the changes are saved in the cloud.