Whether you own a corporate firm or a small scale business, your data is your most valuable asset. But, security at all levels should be the concern for any firm or individuals. While accessing the web, many times, we come across malicious threats such as malware, spyware, etc. They can track down your private data and leak them to a third-party operation. So, to protect your information and system from malfunctioning, you need to diagnose and analyse your network security.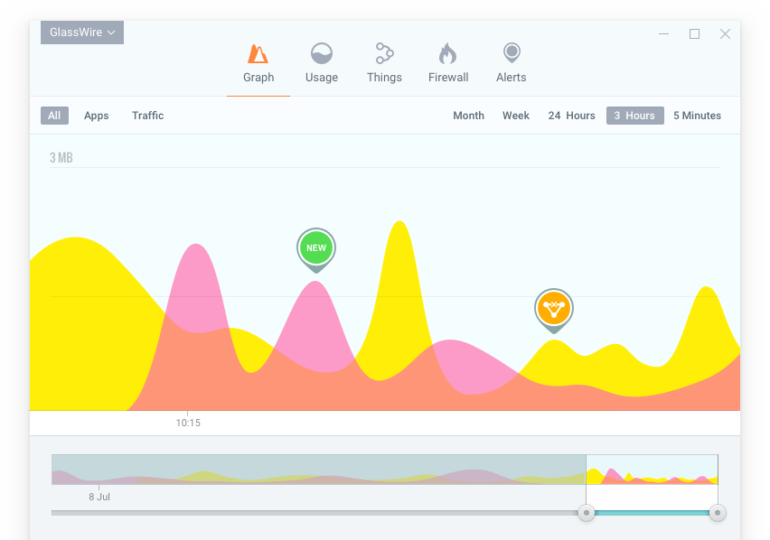 Therefore, GlassWire is one such powerful firewall application, which allows you to keep a track of your network connection, services and other network activities. It allows you to monitor the servers connecting to your network, protects and improves your privacy, and scans your network activity for any anomaly. It offers a lot of services. For instance,  internet security, discreet alerts, bandwidth usage monitoring, RDP connection detection, and so on. Let us look at the best 10 alternatives for GlassWire.
10 Best Alternatives for PC and Mac
pfSense:
pfSense is the world's most trusted open-source firewall application with many useful features. It includes a web interface that allows you to configure and upgrade your services without requiring extensive technical knowledge. Hence, you can extend the security to your team members regardless of their location by using some virtual appliances. Also, it is compatible with Microsoft Azure, Amazon AWS, etc.
Filseclab Personal Firewall:
Filseclab Personal Firewall is an effective application that provides a strong layer of security to your device. It has a user-friendly interface, which hides complex mechanisms and offers powerful features. It allows you to create custom firewall protection. Moreover, Filseclab Personal Firewall is free and easy to use. So, the application monitors and blocks all types of malicious network activities caused by viruses, malware, spyware, etc.
Total Defense Internet Security Suite:
Total Defense Internet Security Suite is a well-known name for providing online security and firewall protection. The application includes an antivirus, PC tune-up, and mobile security. The platform protects you from spyware, viruses, ransomware, and other types of malware. The easy-to-use interface allows you to set-up, schedule, and monitor all network activities.
eScan Internet Security Suite:
eScan Internet Security Suite protects your computers from various types of attacks. These come from different network channels such as downloads, emails, online communication, chatting, and so on. Hence, it is perfect for those who want personalized protection of data. Therefore, the extra layer of firewall protection ensures that your members can be productive.
FortiGate:
FortiGate is a next-generation defence software that allows you to overcome the common network security issues. The platform comprises two components: FortiGuard Labs and Fortinet Security Fabrics. First one is an integrated application that automates the monitoring of any network activity. And, the later contains security features such as app control, web filtering, threat maps, etc.
WatchGuard Firebox:
WatchGuard Firebox as a GlassWire alternative provides enterprise-level protection from several threats such as malware, spyware, etc. It provides updated security service to the users. The platform is easy to deploy and manage. Therefore, it is well suited to protect valuable business assets and digital resources in any organization.
SonicWall:
SonicWall provides powerful firewall protection and secures the entire organization from cyberattacks. It constitutes advanced algorithms and methods, so it is always up-to-date and detects any new type of threats. The platform makes it easy to manage the protection of various devices connected to your company network.
Little Snitch:
Little Snitch is available only for Mac and iOS users. It monitors all network activities in your machine, especially applications that connect to remote servers. The platform incorporates all the tools and features to configure and set-up custom network security for your computer. In conclusion, Little Snitch has strong notified options and very powerful analytical tools.
Kaspersky Internet Security:
Kaspersky Internet Security has a plethora of tools to protect your device from various threats such as spiteful software, scammers, webcam spies, and all others. It will work in the background to allow you to focus on your productivity and business. It is light-weight and uses minimal memory. One important feature of Kaspersky Internet Security is that it can protect your passwords from hackers. 
Windows 10 Firewall Control:
For the Windows 10 users, there is a very powerful firewall installed and working in your system without being noticed. Windows 10 Firewall Control provides high security against external network threats. It increases your level of privacy. The platform also serves as your network monitoring and controlling dashboard.