Malware and harmful threats can be quite dangerous for your PC.  Thus you have to safeguard your PC from such damaging and malicious malware. To ensure your PC is safe, you need a software for malware removal. One of such applications is Trojan Remover. It can help you to remove various malware such as Worms, Trojan Horses, Spyware and even adware. It is a comprehensive antivirus that may be helpful for you a lot. It is one of the best Malware removal software that you can ever get.
| | |
| --- | --- |
| FULL NAME: | Trojan Remover |
| FILE SIZE | 22 MB |
| REGION | English [USA] |
| CONSOLE | Windows |
| DOWNLOADS: | 121,411 |
| RATING: | ⭐⭐⭐⭐⭐ |
Download Trojan Remover
Now if you are looking for a malware remover, then Trojan Remover is the best-suited application for you. Simply Super software developed Trojan Remover software. You can now eliminate any threats to your PC and safeguard your PC in situations when even antivirus applications are of no use. Scanning and detecting malicious software like Trojan Horses, Adware, Internet worms, Spyware and many more is not a difficult task. What's main is that it needs to be cleared permanently from your PC. Thus Trojan Remover not only detects such threats, but it also removes the same.
Features of Trojan Remover
Certain features of Trojan Remover makes it one of the best malicious programs and malware removal tool. Some of the features are as follows:
Scanner
Trojan Remover can quickly scan every single file that is loaded in the boot time. It scans for any spyware, Adware, Internet worms, Remote access Trojans and much more malware. It also checks for specific Windows loads services that may be hidden by Rootkit techniques and can thus give you warning regarding the same.
Alert Screen
Trojan Remover can keep your safety assured as it can show you alerts. Trojan Remover pops up an alert system for every Worm, Trojan horse, and other malware and it also shows the location and name of the file in the pop-up alert. It also helps you to remove such threats.
Disables memory-resident malware
Certain malware will not leave your computer even with the antivirus. But with Trojan Remover that would never happen. Trojan Remover can remove and disable malware that is memory-resident effortlessly.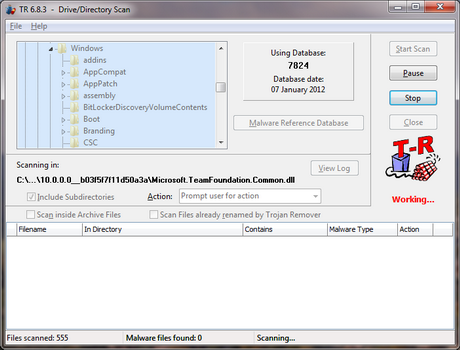 FastScan
You won't even have to run the application manually. Trojan Remover can scan for malware every time you boot your PC with the help of the FastScan feature. With the FastScan, Trojan Remover quickly checks all the program-loading files. You can thus efficiently scan for malware and even set a time for scanning malware.
Integral Updater
Trojan Remover also contains an integral updater. Thus you can quickly perform Database and Programs update effortlessly. There is a scheduled Task in Trojan Remover that can search for daily updates and you can check for updates manually as well.
Minimum Installation Requirements of Trojan Remover
If you want to download Trojan Remover on your PC, then first ensure the conditions required for Trojan Remover. Such requirements are as follows:
The operating system required for Trojan Remover is Windows 10, 8 and 7.
Both 32-bit and 64-bit processors are compatible for Trojan Remover.
You need 1 GB of RAM for Trojan Remover.
You need 2 GB of free Hard Disk space for Trojan Remover.
Download and install Trojan Remover on PC
Now, if you want to download Trojan Remover on your PC and you don't know the way then you are at the right place. To download Trojan Remover on your PC, you can follow the steps which are as follows:
1. Firstly click on the download button provided here to download Trojan Remover on your PC.
2. after that, save the file on your PC.
3. To save it, you can either click on 'save' (it will save the file on the 'downloads' folder) or 'save as' (you will get an option to keep it at your desired location).
4. After that, double click on the exe file that you have saved.
5. After that, an installer program will come up.
6. Then, follow the steps in the installer program.
7. Then, please wait for it to install.
8. After that, you can access the software from your desktop.