LG Bridge is a one-stop application developed by LG that brings all kinds of LG devices (phones and tablets) together. This desktop application was designed to let users take control of their devices and give them the options to backup, restore and transfer files from their computer to an LG device wirelessly.
| | |
| --- | --- |
| FULL NAME: | LG Bridge |
| FILE SIZE | 1.8 GB |
| REGION | English [USA] |
| CONSOLE | Windows |
| DOWNLOADS: | 121,411 |
| RATING: | ⭐⭐⭐⭐⭐ |
Download LG Bridge
With LG Bridge, users can transfer your files and create the required amount of space as users prefer in their devices. This application lets users take control of software updates that are required to be installed and also gives users the option to connect with their LG devices wirelessly. Any kind of file transfers, data validation and software updates can be done with this software and all on a remote connection basis with the comfort of their computers.
In this post, a detailed explanation about a few main features of this LG Bridge software and how users can download and set it up on their desktop to manage their devices efficiently. There are three main features of LG Bridge that provide a seamless remote service to the user's LG devices.
Features of LG Bridge
Take a look at the below features to understand why LG Bridge is such a good tool to manage a user's LG devices and make their data transfers seamless. 
LG Backup
As the name suggests, this feature allows LG Bridge to back up all the data in your LG device or restore all lost files using this application. Also, users can restore any of their lost data in the event of a connection loss or device corruption. Data loss due to device corruption is a pretty serious and common error, and the necessity to protect data against losing it is greatly required. LG Bridge will safely back up any data that could be lost during a data connection and help retrieve it back after successful reconnection. This helps users to retrieve any kind of lost data at any time. List of data backups can include images, music, videos, etc.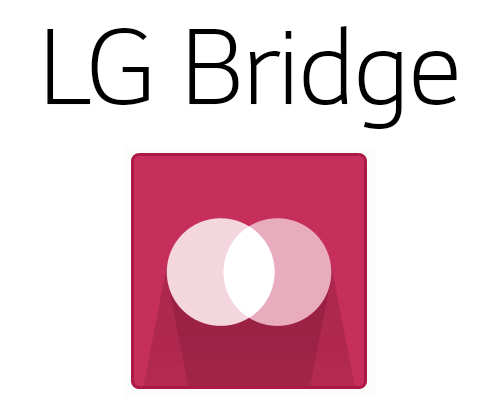 LG Software 
This feature allows users to update any of their LG device's pending software updates and keep their devices up to date. All kinds of pending software updates can be installed on your LG devices to the latest versions using this remote desktop application. This feature will help users in saving time rather than keep their phone on hold until the entire updates are downloaded and patched.
LG Airdrive
Airdrive is a cloud-type feature from LG that allows users to establish a connection between your desktop to your LG device. This remote connection will allow users to establish seamless connectivity, and data transfers can be made easy. Also, users can manage their files, backup any kind of data, restore any of their lost data, and also make use of all the features of the application.
Installation Requirements for LG Bridge
To install LG Bridge on a user's PC, make sure that the PC is on Windows 7 or higher with at least 2 GB of RAM. 
How to Download LG Bridge on Windows
Follow the below steps to download and install LG Bridge on your PC:
Go to the LG official website at https://www.lg.com/us/support/help-library/lg-bridge-download-how-to-use-CT10000026-1438110404543 to download the installer.
Click on the installer. A setup window will open.
To start the setup, click 'Next'.
Select your country and click 'Next'.
Add a checkmark to both the boxes of the Terms of Use and the Privacy Policy to 'Agree' and click 'Next'.
Select the location of where to save the program and click 'Install'.
Wait for the progress to complete and click 'Next'.
If you wish to open the LG Bridge, place a checkmark next to the option and click 'Finish' to close the install.
After the application opens up, you can connect the application to your device and complete your tasks wirelessly.