Playing on a PC using Android apps or games has become pretty common these days, with so many Android Emulators that are available on the market. Gone are the days when gamers stick to their small mobile screens while not having the best gaming experience possible. 
| | |
| --- | --- |
| FULL NAME: | LDPlayer Android Emulator |
| FILE SIZE | 1.8 GB |
| REGION | English [USA] |
| CONSOLE | Windows |
| DOWNLOADS: | 121,411 |
| RATING: | ⭐⭐⭐⭐⭐ |
If you are among those gamers who are tired of playing in their smartphone and looking to play Android games on their PC, or if you're an Android user who wants to bring the whole Android experience on their PC for larger screens and a powerful computer, then this software is perfect for your needs. 
LDPlayer Android Emulator, a software launched last 2016 by XUAN ZHI INTERNATIONAL COMPANY LIMITED, is a widely used Android Emulator which supports gamers to run all kinds of android games that they like. With larger screens, convenient controls by the keyboard and mouse optimized gaming controls, etc. Gamers would surely have the best gaming experience possible. 
What is LDPlayer Android Emulator? 
LDPlayer is an Android Emulator using virtualization technologies. LDPlayer is a free Android emulator, and it can help users enjoy the Android operating system on their powerful computers. It is one of the windows' best and lightest Android emulators.
Whereas a Chinese software firm develops LDPlayer, it has been launched for all users around the world so that everybody can experience smartphone games and applications on their wide desktop. For Windows, LDPlayer is a stable Android emulator and does not have too many advertisements. It doesn't contain any spyware either.
LDPlayer provides not only comparable performance but also the dazzling speed for running Android games on the PC compared to other emulators. "The Best Android Simulator to play mobile games on PC," as it claims. The company also developed the LD Store as a play store to download and install games not only on the simulator but also on their Android phones for all players.
Notable Features of LDPlayer Android Emulator
Supports most popular games on the market
LDPlayer supports most of the primary stream games on the gaming market, and the most popular are typically shooting games. For instance, the most common game downloaded by players on LDPlayer is FREE FIRE. Several LDPlayer feature settings encourage you to enjoy the best results.
APK Support
The APK Support is a real game-changer in the Android Emulator industry because if an app is not found in the Play Store, LDPlayer will support downloading APK files. You will not only browse on your PC with the APK icon but also load the APK files into this special emulator. Thus it is still possible for you to import and update the APK files into this emulator even though you find an app that is not available in the LD Store. Many users and gamers will be relieved that LDPlayer has this promising feature.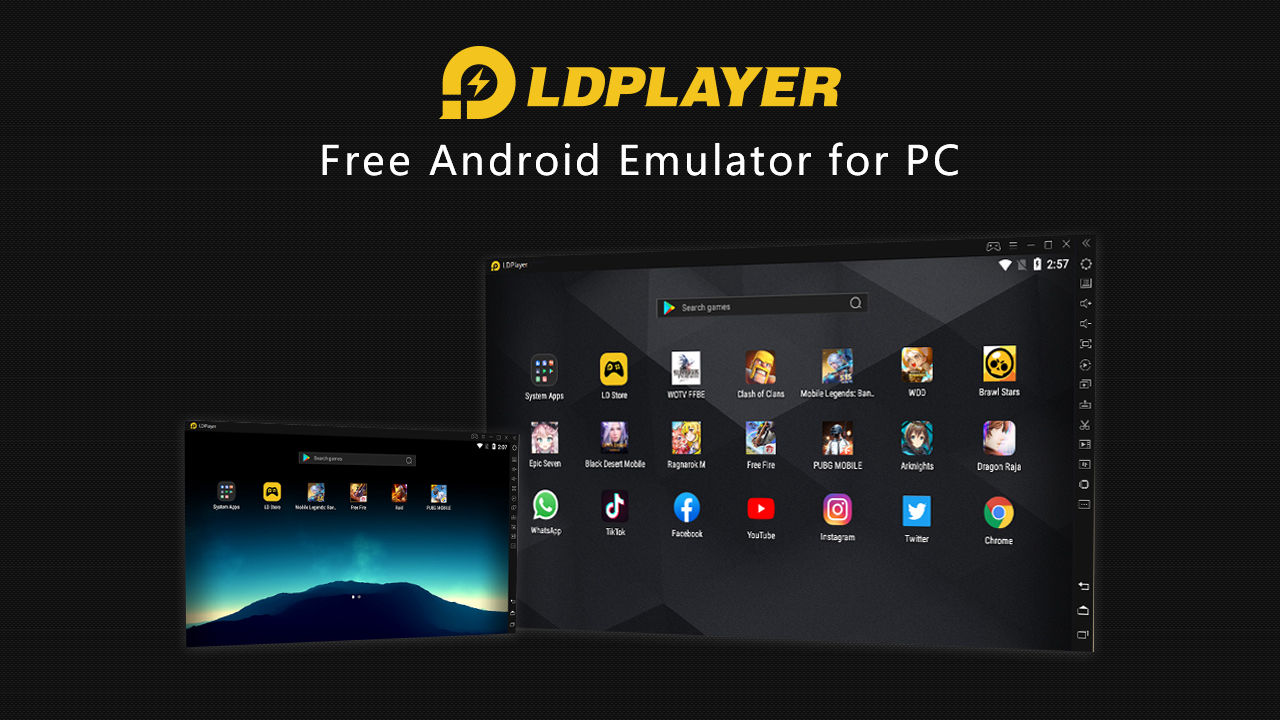 Macros and Custom Mapping
For gamers that are fond of playing with advanced games that involve a lot of functionality controls, LDPlayer is one of the best for that. There are various specialized options for developing a personalized mapping tool for the games you are playing. For that purpose, you can put buttons for shooting on the screen, set the gameplay view depending on the game graphics, etc.
This software also facilitates the development of macros that are relevant when playing extra advanced games and thus depend on tilt, shift, push, or click sensitivity. If the mapping options don't work for your specific game, this choice is important.
Supported Gamepad Controller
This emulator has also integrated a native gamepad support feature, perfect for gamers who love to play sports games like NBA, FIFA, etc. For that reason, if you enjoy playing games with a joystick, you can easily attach it to your PC and then click on the gamepad icon in the title bar to set up your gamepad on the gaming emulator.
Screen Recording
This feature is perfect for gamers who love to record while they're playing and share his gameplay to social media. This emulator also comes with a screen recorder that is important for capturing an application or gaming to be seen and viewed on social media sites. Remember, though, that the use of keyboard shortcuts would not include a screen recorder. 
How to download and Install LDPlayer on your PC
Downloading the LDPlayer Android Emulator on your PC is easy and simple to perform. All you need to do is follow the few steps written below:
The first step is to visit LDPlayer's official website, you can search "LDPlayer" on google, and the official website will be shown on the top search.
On the website's homepage, you will find a yellow button that's labelled "Download LDPlayer"
Click on the yellow download button and wait for the download to complete on your PC
You must then click on the LDPlayer update icon,ldpinst.exe after the update has been completed. With the ldpinst.exe button opened, the download or configuration screen will now open and display. To launch the installation, you must click on the button called Install Now.
You can now enjoy using the LDPlayer Android Emulator and play all the games you want.
Some Popular Alternatives To LDPlayer
Bluestacks
Just like any Emulators, BlueStacks places the operating system for Android on your desktop. The first production software that allows its users to use their favourite smartphone applications on a Windows PC is BlueStacks. You can install apps such as Angry Birds Room, Temple Run, Evernote or Documents to Go directly into BlueStacks or use the BlueStacks Cloud Link Android app to sync the apps from your computer. This software is essentially an Android PC emulator.
Nox
Same as Bluestacks and LDPlayer, Nox Game Player is also an Android Emulator that helps you to use virtually all of the software of the Android operating system from your own computer's comfort. We're talking about applications along the lines of Clash of Tribes, Instagram, Kitchen Tales, and Subway Surfers.