Keyboard emulators are pretty useful for a variety of reasons. You can easily emulate a keyboard or mouse from your PC game controllers effortlessly. This is why you can easily use keyboard emulators to temporarily make your controllers into Keyboards or mouse. Now when it comes to the emulator, the best one you can use is JoyToKey. So if you are unable to use your keyboard or mouse or maybe you don't have one at the moment, then you can try out the emulator known as JoyToKey. There are a variety of games that support keyboard and not controllers. This will come in handy JoyToKey as it will replace your keyboard and provide all its functions as well.
| | |
| --- | --- |
| FULL NAME: | JoyToKey |
| FILE SIZE | 11 MB |
| REGION | English [USA] |
| CONSOLE | Windows |
| DOWNLOADS: | 121,411 |
| RATING: | ⭐⭐⭐⭐⭐ |
Download JoyToKey
Ryo Ohkubo Develops JoyToKey with a simple interface and unique features. It can provide you with every function a regular working keyboard or mouse can offer you. You can now make your Gamepad operate as a keyboard like keyboard strokes, mouse movement and whatnot. All it can be possible as if you are using a keyboard and not a Gamepad or controller. Not only can you use it for gaming purposes, but you can also use it for other tasks. You don't even have to worry about its safety as it is a virus-free application.
Features of JoyToKey
You might also be thinking as far what exactly are the features that JoyToKey can provide you. Well, its features are unique, which are as follows:
Multiple controller support
JoyToKey can support multiple virtual game controllers. You can now enjoy gaming as much as you with various controls. We can now create and use various virtual game controllers as much as you with JoyToKey.
Control profiles
You can now create 16 configurable game control profiles with the help of JoyToKey. And it can come in handy a lot.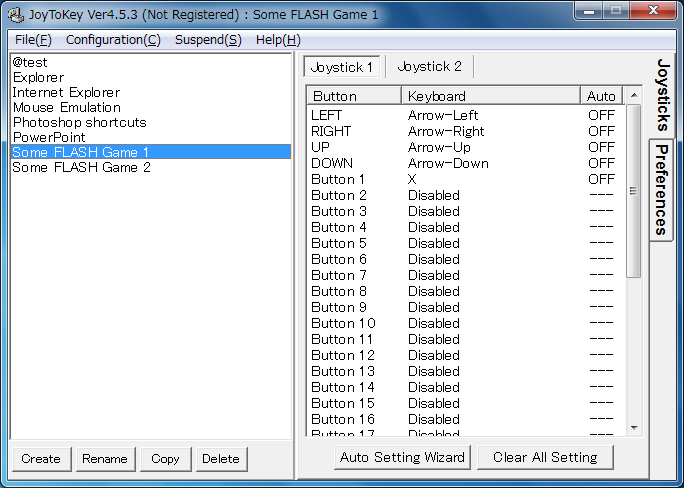 Managing advanced emulation
You can now manage the advanced evolution of media controls with the help of JoyToKey. It will support media controls emulation such as volume up, volume down, previous, next, stop, play and whatnot.
Switching
JoyToKey can also help you to switch between multiple key assignments quickly without any hassle. Not only that, but you can also switch between profiles per the currently focused application.
Incredible interface
Even though the interface of JoyToKey is pretty simple, yes, it's incredible. The interface contains a window having two panes that list all the created Gamepad profiles and a listing of button commands for such profiles.
Keyboard and mouse emulator
You can easily emulate keyboard and mouse with your game controller through JoyToKey. Moreover, you can also set specific settings for your keyboard and mouse with it. You can also optimize the reaction of your game controller in different situations from the settings.
Minimum Installation Requirements of JoyToKey
If you want to download JoyToKey on your PC, then first ensure the conditions required for JoyToKey. Such requirements are as follows:
The operating system required for JoyToKey is Windows 10, 8 and 7.
Both 32-bit and 64-bit processors are compatible for JoyToKey.
You need 1 GB of RAM for JoyToKey.
JoyToKey doesn't have any other additional requirements.
Download and install JoyToKey on PC
Now, you would want to download JoyToKey on your PC. Well, it is a pretty task. To download JoyToKey on your PC, you can follow the steps which are as follows:
1. Click on the download button provided here to download JoyToKey on your PC.
2. after that, save the file on your PC.
3. To save it, you can either click on 'save' (it will save the file  on the 'downloads' folder) or 'save as' (you will get an option to keep it at your desired location).
4. After that, double click on the exe file that you have saved.
5. After that, an installer program will come up.
6. Then, follow the steps in the installer program.
7. Then, please wait for it to install.
8. After that, you can access the software from your desktop.