For all the digital artists out there, who are looking for a good digital painting tool, FireAlpaca is one of the best options available on the Internet. This free painting software is compatible with both Mac and Windows desktop and offers tons of features that make illustrating quite easy.
| | |
| --- | --- |
| FULL NAME: | FireAlpaca |
| FILE SIZE | 2.9 MB |
| REGION | English [USA] |
| CONSOLE | Windows |
| DOWNLOADS: | 121,411 |
| RATING: | ⭐⭐⭐⭐⭐ |
Regardless of your system specifications, FireAlpaca works charmingly and smoothly on older PCs as well and doesn't lag like most other digital painting software. And it offers a variety of tools that allow you to optimize, edit, and print digital paintings and images quite conveniently.
One of the best things about FireAlpaca is that it has a simple user-interface and is perfect for beginners and novice digital painters as well. This is especially a good option for users who are looking for a free alternative to Photoshop to edit their digital images.
In this article, you can read about a few of the features of FireAlpaca that can make digital painting and editing easier for you. Apart from that, you will also find detailed instructions on how to download and install FireAlpaca on your PC.
Features of FireAlpaca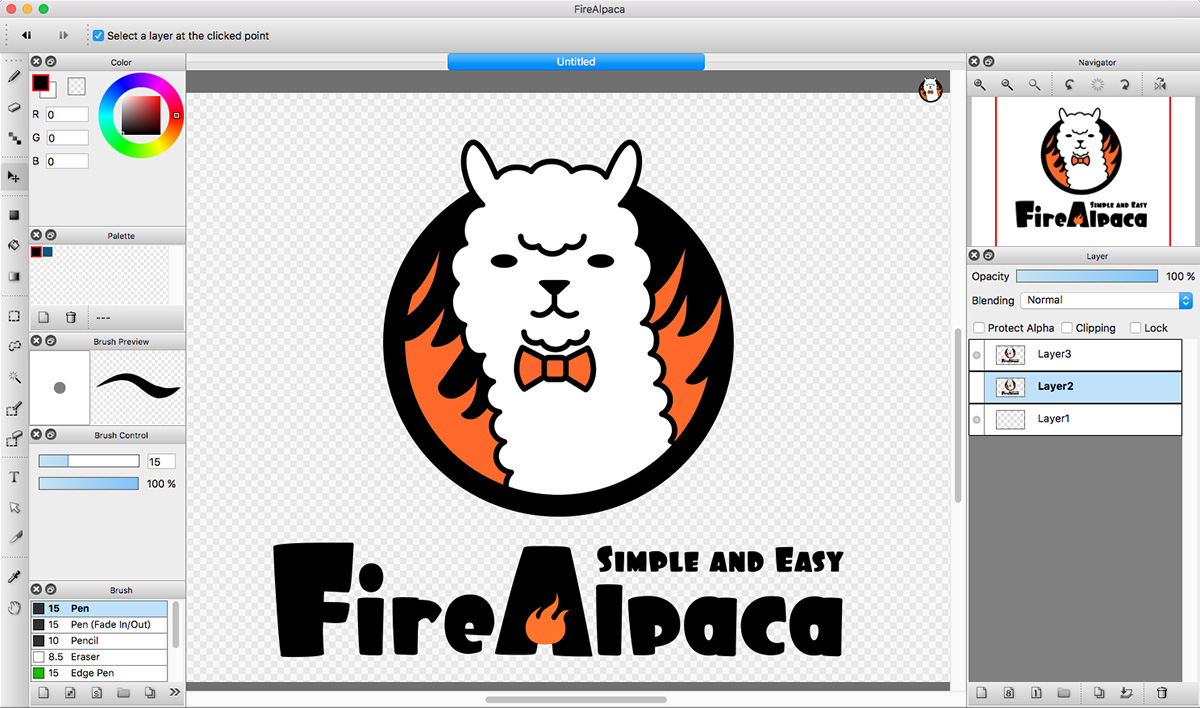 FireAlpaca is a complex utility tool for creating and editing digital images without any prior experience in digital editing. This tool is not as comprehensive as some of the paid editing software, yet it offers an amazing amount of editing tools including a color picker, filters, special effects, and so on.
It also provides helpful tips and via pop-up notifications that can make using this software quite easy for you. Here are a few features of FireAlpaca that make it a good alternative as a free photo editing tool:
Streamlined User Interface
One of the best things about FireAlpaca is that it has a streamlined user interface that makes it easy to navigate for the users. You will find here tabs like layer tab, editing tab, filter tab, etc. that make it easy to make the changes in your image as needed.
And the best part is that you can choose the toolbars and menus that should be displayed when you are working on a project. That's not all, whenever you hover your mouse on a feature or a tool, the program provides you hints and insights into its function. This makes the program quite user-friendly and convenient to use.
Customizable Tools
Another great thing about FireAlpaca is that it offers a wide range of tools and brushes that offer you different effects. And you can always customize these preset tools.
In fact, you can also add new brushes or pencils to work your way in this digital editing application. Since this application also supports graphic tablet usage, you can easily manage the size and thickness of your strokes by varying the pen pressure.
Create Layers
With FireAlpaca, you can also separate your main project into layers to test out different tools and the effects. This way, you don't mess with the original project while finding the best effects for your images.
You can also duplicate layers so that the changes can be reverted if needed. Also, you have the option to change the priority of the layers or can easily hide a layer as well to test out the effects.
Multiple Tab Option
Another useful feature of FireAlpaca is that it allows you to work on multiple projects simultaneously with the help of the multiple tab feature. So, you don't need to open multiple instances of the program to work on different projects.
You can simply open the projects in different tabs and even copy the elements from one project to add to another project, without any hassle.
Installation Requirements for FireAlpaca
In order to install FireAlpaca painting software on your PC, you need to meet the minimum system requirements for this digital painting software. Here are a few system requirements to keep in mind before you begin with the download and installation process:
Operating System: Windows Vista, Windows 7 64-bit, Windows 8 64-bit, Windows 10 64-bit, or a newer Windows version; OS X or macOS 10.7 or newer
2 GB RAM memory
Available Disk Space for Storage: 100 MB
CPU Processor: Intel Pentium 4 2.00 GHz
Graphics Card: NVIDIA GeForce 510 or higher
How to Download and Install FireAlpaca
After you have ensured that your PC meets the system requirements to run FireAlpaca, you can begin the installation process. For this, you need to download the installation file for the software.
Please follow the below-mentioned steps to begin the download and installation process on your PC.
Go to the official website of FireAlpaca at https://firealpaca.com/ to find the latest software version to download.
On the homepage, click on the 'MAC Download' or 'Windows Download' button depending on your PC system.
If you wish to download a previous version of this digital painting software, then click on the 'Downloads' menu tab.
On the Downloads page, you will find the option to download older versions of FireAlpaca software available for both MAC and Windows system. Choose the version that you want and download it.
Wait for the download to get completed.
Installing FireAlpaca on Windows PC
After the download is completed, follow the below steps to install FireAlpaca on your Windows desktop.
Head to the Downloads Folder where the FireAlpaca installation file has been saved.
Double-click on the .exe file to initialize the installation process.
Follow the installation instructions on the screen and wait for the installation process to get completed.
FireAlpaca is now successfully installed on your PC and is ready to be used.
Installing FireAlpaca on MAC
After FireAlpaca .zip file has been downloaded, follow these steps to get it installed on your MAC.
Open the Finder Window and locate the downloaded .zip file.
Double-click on the .zip file to open the contents of the folder.
Locate the FireAlpaca file in the zip folder and double-click on it to launch it.
You can now start using FireAlpaca software on your MAC system.