ACID Pro is a professional digital audio workstation developed by Sony Creative Works, Magix Software, Sonic Foundry. The software was released in 2019 for Windows 8.1. The software supports both 32-bit and 64-bit architecture. It also consists of MIDI, ASIO, VST, VST3, DirectX Audio and 5.1 surround sound support.
| | |
| --- | --- |
| FULL NAME: | ACID Pro |
| FILE SIZE | 1.8 GB |
| REGION | English [USA] |
| CONSOLE | Windows |
| DOWNLOADS: | 121,411 |
| RATING: | ⭐⭐⭐⭐⭐ |
 Features of ACID Pro
Inline Editing: This feature allows users to alter the MIDI data directly into the software's timeline and work within traditional piano roll and drum grid interfaces. Users can edit note positions; pitch bends, velocities and control information all on the main multitrack of the interface so that the user does not need to open another window.
Drum Grid Mode: This feature on ACID is pretty intuitive and easy. A feature called the Drum Grid is the best way to edit beats directly on a software's timeline. Users can see all the drum parts and they can easily drag their beats anywhere on the timeline and can also add or delete beat with the grid style edit window.
MIDI Track Freeze: This feature allows users to convert MIDI tracks that are triggered by the software instruments into audio. Users who use this feature to freeze their track will have the advantage of using fewer instruments that require to be running in real-time so that it can conserve CPU processing power.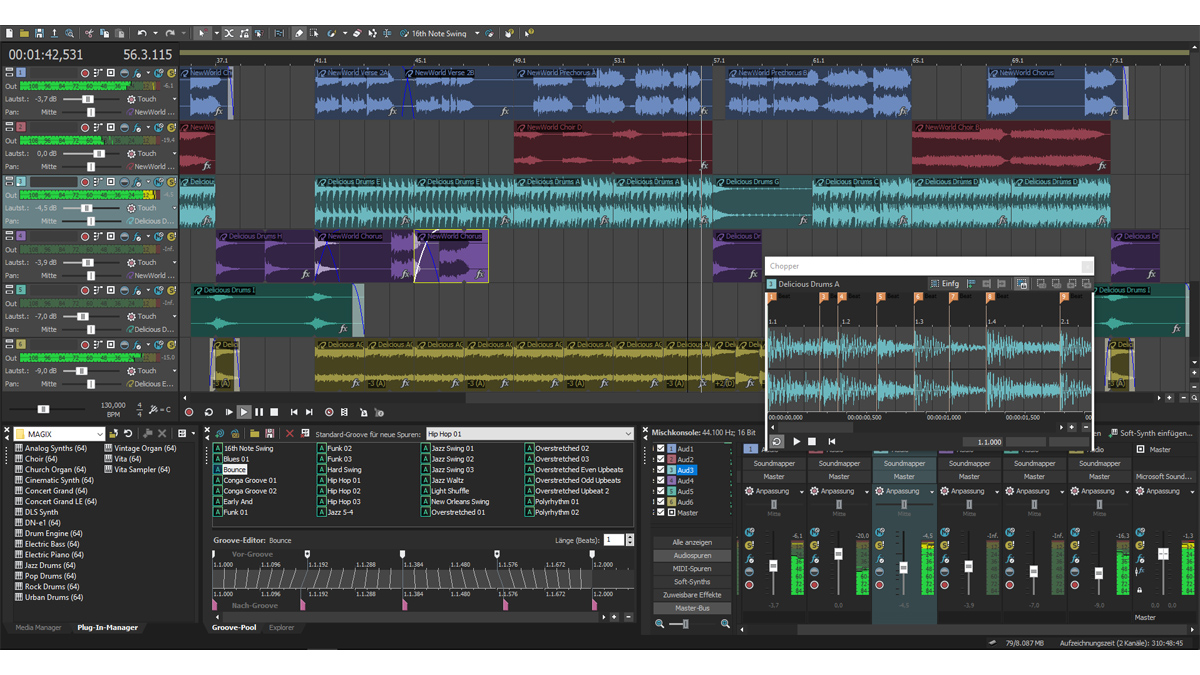 MIDI Filtering and Processing: This feature can be used to process multiple events or tracks that are in MIDI data and can be converted to be worked on the software. Users can also use quantization and global editing of velocity values, note event duration and much more.
MIDI Track Envelopes and Keyframes: In this feature, the software utilizes envelopes and keyframe automation features to edit all kinds of MIDI continuous controller data for a range of parameters like pitch, modulation and expression. Users can also work on controlling a soft synth and can modify it with smooth transitions. Users can also use keyframes and envelopes on induvial clips too or for large-scale projects.
Drum and Patch Map Editors: Users can efficiently edit and create drum maps using this feature. Users can use a template to label the drum names and patches for both hardware and software-based MIDI synthesizers and drum machines. These kinds of templates can also be saved and recalled.
VST2/VST3 Engine with 32-bit Bridge: User can run VST2/VST3 engines that come with a 32-bit bridge and can also add other plugins into the 64-bit environment too.
ARA2 Support: With the ARA2 compatibility, users can have many efficient and smooth interactions with the ARA2 plugins, which will help enable real-time audio editing and smoother workflow.

 Installation Requirements for ACID Pro
To install ACID Pro on PC, make sure that the following requirements are met by the user in the PC desktop.
PC – Make sure that your PC is on Windows 7 or higher with at least 4 GB of RAM.
Compatibility Mode is enabled.
How to Download ACID Pro on Windows
Follow the below steps to download and install ACID Pro on your PC:
Go to ACID Pro's website, and go to Downloads.
 Click on Download Now.
Select 'Save' to download the program. The file will be saved in the Downloads folder.
If you want to save in a specified folder on your desktop, then click on 'Save As' and select the folder you want the program to be saved.
After the download is complete click on the .exe file.
The installation process will start.
Run the installation package.
Wait until the update completes
Follow the Windows installation instructions and select options accordingly.
Click on Finish to complete the installation.
The program icon will appear on the desktop.
 Select the icon to start the application.